We have been reading lots of Halloween books as I work on a post of some of our favorites. We read this one and it didn't make the cut for our favorite Halloween books, but it's a cute book if you like The Cat in the Hat.
L.T. liked that Little Witch ended up being a nice witch (unlike her mother and aunts who wish she was bad). It's a cute story and really explains some of the things you can expect going to school.
I basically will read any books on sloths. There is a sloth family at our local zoo and I love watching them just hang and don't get me started on how cute sloth babies are.

The premise of this book is that a group of children find an animal that they are unfamiliar with. This animal is furry and sleeps A LOT. So the kids do some research and find out that the animal is a sloth and lives in the rainforest. I thought the pages learning about the sloth were well done. Informative facts in short snippets that held a child's attention.
I got annoyed with the book because the ending was just out there. The kids decide to ship the sloth back to the rainforest (not realizing he escaped from the zoo). This led to so many questions. Where is the adult that helped them take this huge box to the post office? How much does it cost to ship a sloth to the rainforest? Clearly a sloth can't survive in a box for days and days so why was this even an option. I just think it could have had a better ending.
The fun illustrations make this book five stars for me. The rhyming of the story was cute, but I didn't totally think that L.T. understood all the words in the book so it wasn't a total win for us.
Hotel Transylvania 3 Drac's in Love. The book was very similar to the movie and I just felt it was okay. L.T. really loves the whole series of Hotel Transylvania 3. I actually got a graphic novel version of the series for C. Bear but we haven't started it yet.
L.T. is scared of everything Halloween and spooky yet he totally was drawn to this book about zombies. I mean a zombie that really wants to eat peanut butter and jelly sandwiches over brains is not so scary. At the end of the book our zombie friend has moved on from peanut and jelly sandwiches and had a new favorite food.
Oh this book just ripped at my heart. I wasn't prepared to be so disturbed by the abusive situation Eleanor and her sibling lived in, but at the same time I was so in love with the characters and Eleanor and Park's love story. The author did a great job of letting us know hints of the abuse without going into such terrible details. And I really enjoyed the back and forth storytelling from both Eleanor and Park's point of view. I would have loved a more detailed ending, but this ending gave the characters hope and that kind of was the perfect ending.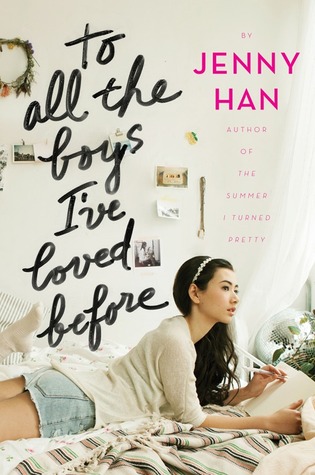 I watched the Netflix movie (after seeing everyone tweet about it) and I thought it was super cute and I needed a light read after the emotional heaviness of Eleanor and Park. The premise of Lara Jean's goodbye love letters actually getting mailed out to her crushes was a unique idea. When one of the crushes happens to be her sisters ex boyfriend it gets really complicated. I loved the sister bond and found myself even a little teary eyed as the sisters fought and made up at the end. And of course I enjoyed the love story and can't wait to read the next book in the series.