Picture Books
We are still on a food reading kick and this one was cute though I don't think it's going to make our list of top 8 food books. Why 8 you ask? I just like the way the photo collage looks so I am capping it at 8. Essentially, this book is all about the antics of a hot dog who is just trying not to be eaten. Cute illustrations and not too many words per page so it held L..T.'s attention.
Animal Strike at the Zoo. It's True! is a book we have had forever, but we are on a reading kick with it. My oldest C. Bear loved this book in his toddler years. L.T. read it once and put it back on the shelf, but recently we have gotten back into reading this very fun rhyming book.
L

ately we've been having some social issues (sharing, taking turns, being polite) and not with my youngest who seems to have mastered those skills. I thought my 8 year old could benefit from a picture book that talked about social skills. He never heard the phrase Do Unto Others so the book does a good job of explaining it in a funny way. A new family of otters moves in next to a hare. The hare seems upset to have new neighbors and a wise owl tells him to treat his neighbors as he would want to be treated. This gets the hare thinking of how he would want someone to use their manners, be a good sport (PLEASE let that one sink in), cooperate etc. There are funny little pictures to go with what he is thinking and it does a good job of teaching social skills without being so preachy. Both boys gave this book a thumbs up.
Chapter Books
When reading our King Arthur book last week we talked a bit about Merlin. This led us to our next book which is the Usborne Stories of Wizards. It is filled with short stories (maybe 6-10 pages in length) that also have illustrations to accompany the story. It really is the perfect book for C. Bear to read.
YA/Adult Books
I have had such a great week of reading books. It has been one book after another where I am excited to read them and just so invested in the story. I love when that happens.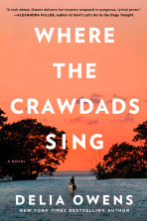 I finished Where the Crawdads Sing and just loved it. The book takes place in the marshland in North Carolina where Kya basically raises herself (with help from a few neighbors) as one by one her family leaves her. The book jumps back and forth between Kya's childhood where she becomes known as The Marsh Girl and the present day where the police are trying to solve a murder that happened in the marsh and it's interesting to see how the stories intertwine. I felt this book had a little bit of everything including survival, friendship, love and of a murder mystery who done it storyline.
So many people have read this and raved about it and so I couldn't wait to add this to my library holds. It certainly lived up to the hype. I lost myself in the story of Lucy, who was struck by lighting when she was 8 years old and became a math whiz. She has been homeschooled the past couple of years, but her grandmother wants her to try out middle school. It's an endearing story of a girl trying to navigate middle school while also trying to not let others know about her mathematical abilities which is hard to keep hidden.
I am about 100 pages into this book and am really enjoying it. The reviews on this have been hit or miss, but so far this is a winner for me. And reading this has made me really curious to find out more about the real Atomic City where the book takes place.